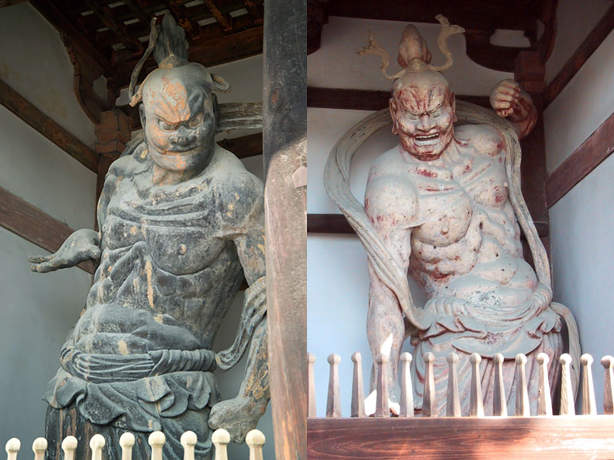 Kongo-rikishi beelden aan de poort van de Horyuji Tempel
*This is a Dutch translation of the article "Aiki, Iki, Kokyu, Heng-Ha and Aun – Some thoughts on breathing in Aikido training.", courtesy of Ernesto Lemke of Seikokan Aikido.
Enkele gedachten over ademhaling in Aikido training
De Kongo-rikishi beelden die de poort naar het binnenste heiligdom van de Horyuji Tempel bewaken zijn de oudste in Japan. Van deze 'Bewaker Koningen' wordt gezegd dat zij meereisden met Shakyamuni Boeddha om als zijn lijfwachten te fungeren.
De rechter (Misshaku Kongo) heeft zijn mond open, symbolisch voor de eerste letter van het Sanskriet alfabet ('A'). De linker (Naraen Kongo) heeft zijn mond gesloten wat de laatste letter van het Sanskriet alfabet voorstelt ('un').
'A-un' wordt normaal gesproken gebruikt om de ademhaling van het bestaan voor te stellen – het Universum zoals die bestaat tussen de gecombineerde In-Yo tegenstellingen.
In het Westen wordt dit soms uitgesproken als het Indiase 'Om' of 'Aum.'
In China wordt dit geassocieerd met Heng-Ha ademhalingsoefeningen binnen de….krijgskunsten. Er zijn beelden genaamd Heng Ha Er Jiang (哼哈二将, de twee Generaals Heng en Ha).
Om terug te keren naar Aikido – hier is iets interessants van de Aikido Grondlegger Morihei Ueshiba:
武産の武の阿吽の呼吸の理念力
De krijgskunst van Takemusu is de kracht van het principe van A-un ademhaling (kokyu)  Continue reading »