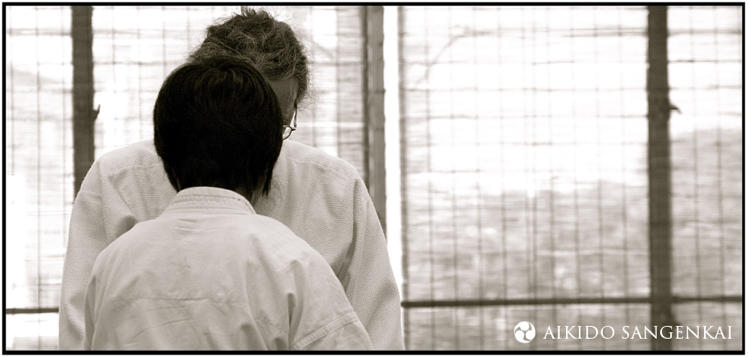 News and Events at the Aikido Sangenkai
See the Aikido Sangenkai Google Calendar for current class times and locations (click here for the iCal version). Click on individual events for more details and links to location maps.
Sangenkai Intensive Workshop with Dan Harden on Oahu: December 3rd - 6th 2015
Download the PDF format registration package.
We are happy to invite you to participate in the December 2015 Sangenkai Intensive Workshop on Oahu. The workshops here in Hawaii are a continuing series hosted in Honolulu by the Aikido Sangenkai and Windward Aikido Club and on the Big Island in Hilo, Hawaii by Hilo Seishikan Aikido and in Kona, Hawaii by Aiki Kai O Kona.
Aiki / Internal Power Training: Thu. Dec. 3rd through Sat. Dec. 5th, open to new participants.
Weapons with Internal Power - Sword and Naginata: Sun. Dec. 6th, open only to participants who have had previous weapons training with Dan Harden – contact us for more information.
In order to allow sufficient contact time the workshop will be limited to 20-25 practitioners on a first come, first served basis. Preference will be given to those who have attended previous workshops, but there will also be spaces available for first time students.
We already have commitments from a number of overseas and mainland participants, and due to the limited number of spaces available these workshops usually fill up quickly. Please contact us as soon as possible to reserve a space if you are interested.
Depending upon Dan's flight schedule there may be pre-workshop evening sessions, please contact us for details.
Dan Harden is an internationally known instructor of the Internal Martial Arts, with over 40 years of experience in modern and classical Japanese Budo.
This seminar will explore exercises for the cultivation and development of internal power, the terminology and methodology of Aikido Founder Morihei Ueshiba and the practical expression of these principles in Aikido techniques and movement. These methods unite the mind/breath/body to move as one in order to activate and power technique. Activating the mind to control the body is not a simple meditative process, nor is it an ethereal enlightenment exercise with little value in the physical form. Historically these esoteric practices were pursued by warriors to generate power in a relaxed body in an age when their very lives were dependent on measurable results.
The Sangenkai is an international association of groups and individuals across North and South America, Asia, Europe and Australia that come from a widely diverging range of arts and disciplines but are united by a common methodology and principles of training.