"Secret Teachings of Budo (Poems)" – from "Budo Renshu", 1933
also see "Three Doka and the Aiki O-Kami"
The first known book published by Aikido Founder Morihei Ueshiba ("Moritaka Ueshiba" at the time of publishing) was the 1933 training manual "Budo Renshu"  (published in English under the name "Budo Training in Aikido"). This manual was initially given to his students as a kind of a teaching license.
It was filled with illustrations depicting techniques taught at the Kobukan Dojo which were drawn by Takako Kunigoshi, a student at the Kobukan who began training shortly before her graduation from Japan Women's Fine Arts University.
The text portions of this work were largely complied and edited by Kenji Tomiki, one of Morihei Ueshiba's senior students. Kenji Tomiki began training at the Kobukan Dojo in Tokyo around 1926 after being encouraged to meet Morihei Ueshiba by Hidetaro Kubota (who later changed his name to Nishimura), a fellow Judo student at Waseda.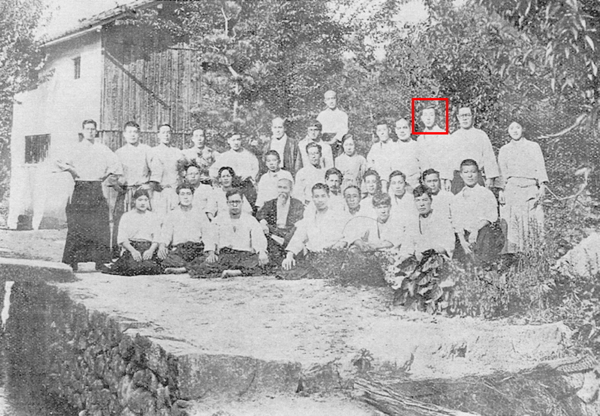 Aikido Founder Morihei Ueshiba, back row center
Kenji Tomiki, back row right (red box)
1934 summer gasshuku, from the Kobukan Dojo newsletter "Kobu" (皇武)
Hidetaro Kubota had trained with Morihei Ueshiba in Ayabe, on the Omoto-kyo compound. One of Kuboto's fellow students, Yutaka Otsuki(大槻豊), would later go on to found his own school of "Otsuki-ryu Aiki-jujutsu".
"Hiden Ogi" scroll issued in "Otsuki-ryu Aiki-jujutsu" by Yutaka Otsuki (大槻豊), 1940
Kenji Tomiki, also a senior student of Judo Founder Jigoro Kano, would go on to become Morihei Ueshiba's designated representative at Kenkoku University in Japanese occupied Manchuria.
Kenji Tomiki and Morihei Ueshiba in Manchuria, 1942
When the Dan ranking system became required by the consolidation of Japanese martial arts by the Japanese government prior to World War II under the Dai Nippon Butokukai he would receive the very first 8th Dan ever to be issued by Morihei Ueshiba.
Tomiki was an instructor at Aikikai Hombu Dojo after the war, but a division gradually developed over the issue of competition in Aikido and the division grew into a split between Tomiki and the Aikikai organization when Tomiki established his Shodokan Dojo in 1967 to refine his teaching methods and then held public tournaments beginning in 1970.
"Aikido Maki-no-Ichi", published by the Aikikai in 1954
In 1954 Morihei Ueshiba published "Aikido Maki-no-Ichi", edited by Ni-Dai Doshu Kisshomaru (Koetsu) Ueshiba. This book, which was not publicly distributed (but is available here), duplicates much of the text and many of the drawings that first appeared in the 1933 publication "Budo Renshu" – text that was originally compiled and edited primarily by Kenji Tomiki.
Also in 1954, Kenji Tomiki published a book demonstrating his own efforts at combining the scientific methodology and educational pedagogy that he had absorbed from Jigoro Kano with the teachings that he had received from Morihei Ueshiba.
"Judo Taiso – a method of training Aiki no Jutsu through Judo principles"
by Kenji Tomiki, 1954
Like "Aikido Maki-no-Ichi" mentioned above, this manuscript (which includes a forward written by Jigoro Kano's son Risei Kano – 嘉納 履正) was recovered through the efforts of Scott Burke, who lives in Fukuoka, but often comes to Hawaii to join the local Sangenkai workshops.
About half of the work itself is text – but the pictorial content in the remaining sections should be understandable even to non-Japanese speakers.
Enjoy!
---
Published by: Christopher Li – Honolulu, HI
All of the content on this site is, and will continue to be, provided free of charge as a service to the community. You can help support this project by contributing a little bit to help support our efforts. Every donation (even $1) is greatly appreciated and helps to cover our server and bandwidth costs, and the time involved. The more support that we get the more interesting new content we can get out there!
By donating you also help support our efforts at Aikido Hawaii, which has provided a state-wide resource for all Aikido in Hawaii, regardless of style or affiliation, for almost twenty years.

Thank you for your support and encouragement,
Chris